Level Detection
Float Level Sensors

Our continuous float level sensor provides simple and accurate level measurement for our tanks up to 6' tall.

Blind with junction box standard (signal out).
Available in PVC/PPL/PVDF/316 SS.
4-20mA output will handle multiple functions; turning on/off pumps, open and close valves, provide
visual or audible alarms, overflow protection, etc.
Suitable for clean, non-sticky liquids.
Local digital display with signal output or blind models available (signal out only).
Pipe Size Connection 2"

Float Level Sensor

| | |
| --- | --- |
| FLOAT LEVEL SENSORS BLIND UNITS | PART # |
| PVC | 24-34414 |
| PP | 24-34415 |
| PVDF | 24-34416 |
| 316 SS | 24-34417 |
| FLOAT LEVEL SENSORS WITH LOCAL DIGITAL DISPLAY | PART # |
| PVC | 24-34418 |
| PP | 24-34419 |
| PVDF | 24-34420 |
| 316 SS | 24-34421 |
Pressure Level Sensors – All-in-one Transmitter/Display Models

Submersible pressure level sensors have only one moving part, a small diaphragm, so they are very reliable and accurate. They are very versatile, unaffected by foam, vapor, turbulence, or condensate.

Measures head pressure above sensor.
Available in 316 SS/PVC/PVDF.
Integral all plastic junction box.
Pipe Size Connection 2"
4-20mA output.
24 VDC powered.
Teflon cable.
Kalrez seals.
The display model mounts on top of your tank. If your tank is under six feet tall, you can simply walk up to the tank and see the liquid level on the digital display. This is an excellent choice if you want a local display, plus signal output, and a great price point!

Pressure Level Sensor with Display

| Pressure Level Sensors With Display | Part # |
| --- | --- |
| 316 SS | 24-34380 |
| PVC | 24-34379 |
| PVDF | 24-34381 |
Pressure Level Sensors – with Junction Box

Good for tanks over 6' tall where a 4-20mA signal output is desired.
Digital colored display/controller PN: 24-34424 available as an option, (see Accessories Spec Sheet).
Includes an all plastic junction box.
4-20mA loop powered.
15 meter (49ft) Teflon coated cable standard.
Pipe Size Connection 2"

*If you have a caustic solution, use the SS unit.

Pressure Level Sensors with Junction Box

| Pressure Level Sensors Blind w/Junction Box | Part # |
| --- | --- |
| 316 SS | 24-34411 |
| PVC | 24-34412 |
| PVDF | 24-34413 |
Ultrasonic Level Sensors

Ultrasonic sensors are non-contact and very accurate. Excellent choice for continuous level monitoring.

Corrosion free PVDF construction.
Choose with Local LED indication model or Blind Model.
Viton seals.
Ideal for non-foaming, non-vaporous liquids.
Quick wire disconnect 4-20mA loop powered.
0.2% plus/minus accuracy.
Measuring tank sizes up to 19.6' field adjustable range.
1-1/2" MPT connection.
Push button programming.
6M (19.6') range.

| | |
| --- | --- |
| Ultrasonic Blind Sensor Series 500 | Ultrasonic Sensors with Local LED Display Series 1000 |

| Product Type | Part # |
| --- | --- |
| Ultrasonic Blind Sensor Series 500 | 24-32364 |
| Ultrasonic Senor with Local LED Display Series 1000 | 24-34422 |
Radar Level Sensors

ProScan Radar level sensors are very reliable and very accurate non-contact sensors suitable for many applications that ultrasonic sensors do not perform well in, like applications with vapor and condensate. For extra demanding non-contact level indication, Radar is your premium option.

2" MPT connection.
4-20mA loop powered.
24 VDC.
10M range.
Teflon wetted parts.
LCD Backlit display.
Industry's Only .
Thermoplastic Housing.
Push button programming.

Radar Level Sensor

| Product Type | Part # |
| --- | --- |
| ProScan Radar Level Sensor with Local LED Display | 24-34423 |
Leak Detection
Capacitance Style Leak Detection Sensor with optional Audible/Visual Alarm Unit
PN: 24-34378
If you need a simple, yet reliable leak detection sensor for your tank's secondary space, that will provide a 4-20 mA signal to send to your controller or computer, we recommend our capacitance style leak detection sensor. Capacitance/Proximity sensors will detect any liquids in the interstitial space and send out a signal to your controller. If you'd like to add a visual/audible unit, we recommend our PA 1000 alarm see Accessories section for more info. This sensor will work with any of our double containment tanks.
Easy to install. Drop into the interstitial space and secure it in place on any tank up to 60" in height.
If you are installing it into an access opening, you can add a grommet to seal it in place.
Provided with a special 1" PE Plug with grommet to seal sensor cable for a secure installation.
24VDC powered.
Can also be used in sumps and other containment areas.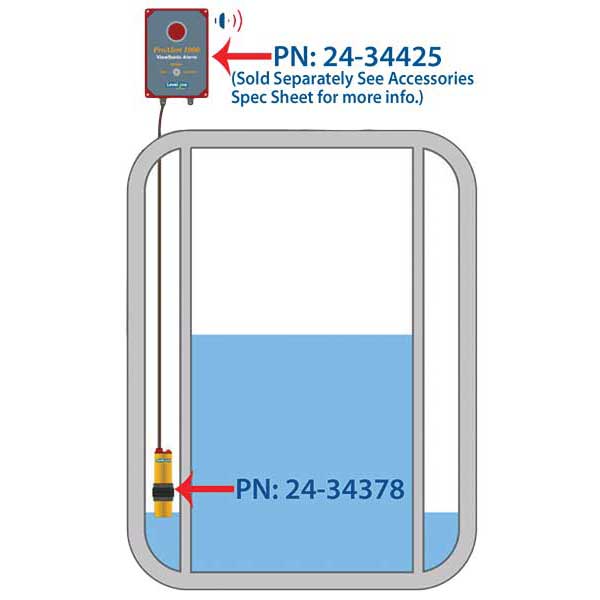 Battery Powered Leak Detection Sensor
PN: 24-34566
No power required, just install it into a 1" FPT pipe thread and it's operational.
Long life battery won't need to be replaced for years.
Includes visual LED Light, Audible Alarm and a silencer button.
Cut to fit your tank in lengths up to 60". Adjustable cable length for any tank up to 60" in height.
Very competitive price makes this product an easy addition to your double walled tank.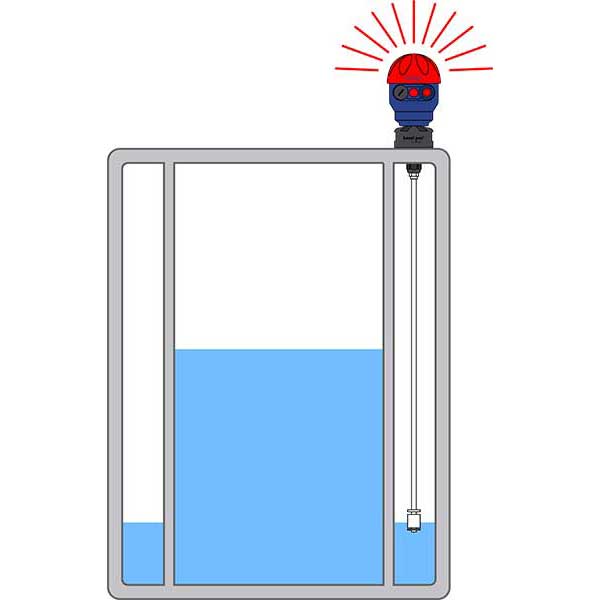 Level & Leak Detection Accessories
Optional accessories available for the ProChem® Level & Leak Detection Products.
Universal Multi-Color LED Display/Controller
PN: 24-34424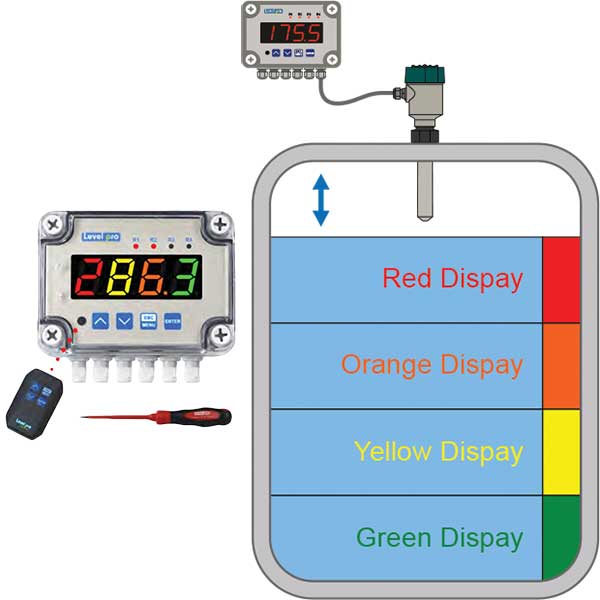 Are you looking for a simple controller to compliment your level control system? Our Universal Multi-color LED display level controller will connect to any of our level sensors to provide the following benefits:
Integral 120VAC to 24VDC converter.
(4) 5Amp relay outputs.
4-20mA signal output + RS-485, Modbus RTU.
NEMA 4X enclosure.
Unique color display to mirror process conditions.
PA 1000 ProAlert Audible and Visual Alarm
PN: 24-34425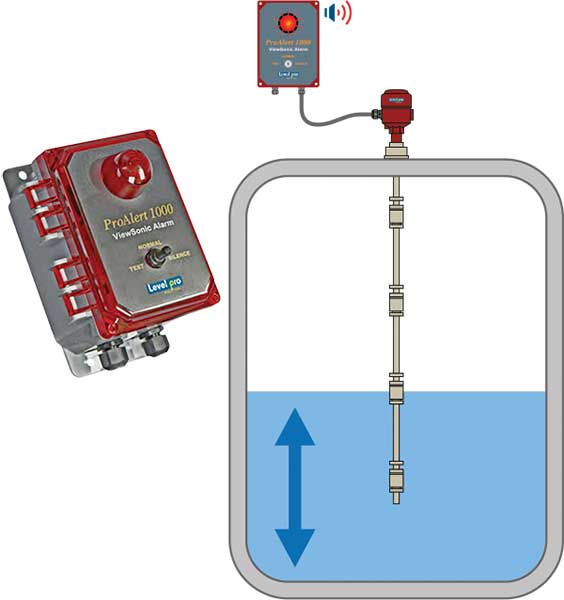 Integral pulse to relay switch.
Timer.
6' power cord.
Red alarm light.
90 dB audible alarm with external test button.
Truflo Power SupplyPN:
24-34426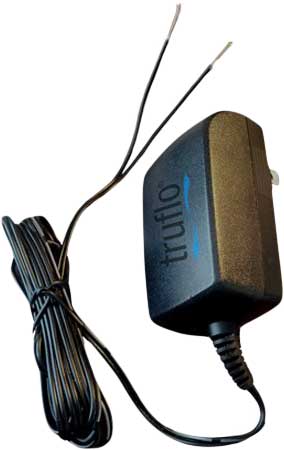 120 VAC to 24 VDC converter.
With wall plug.
All plastic construction.
LP100 Series Junction Box
PN: 24-34427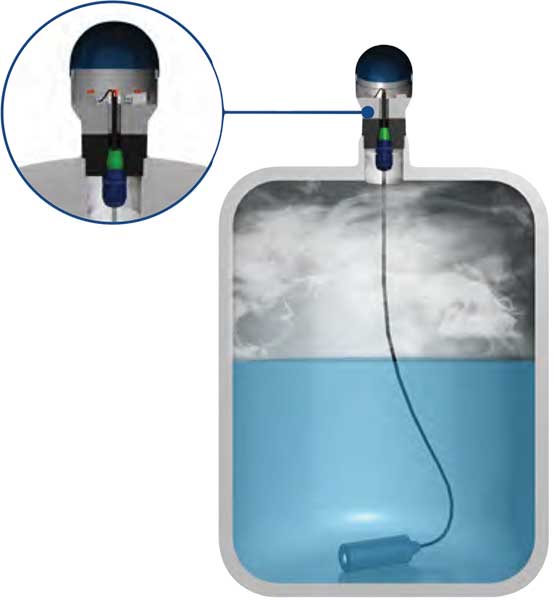 All plastic NEMA 4X rated.
2" MPT connection.
PP cable grips.
Vaporbloc sealing system.
Easy to install/wire, no tools required.
All dimensions and weights are approximate to the best of our knowledge. If exact size tolerances are required please contact our customer service department prior to ordering.
Notice: Prices listed are FOB point of manufacture. A handling fee of $35 will be added to drop ship orders less than $1,500.
Tanks shipped or will called from Corona will have a nominal freight-in surcharge added to price.
Related products