ProChem® Level & Leak Detection Products
NEW Level & Leak detection products can be used on any of our tank systems, to make your process and storage tanks even more intuitive and safer than ever before.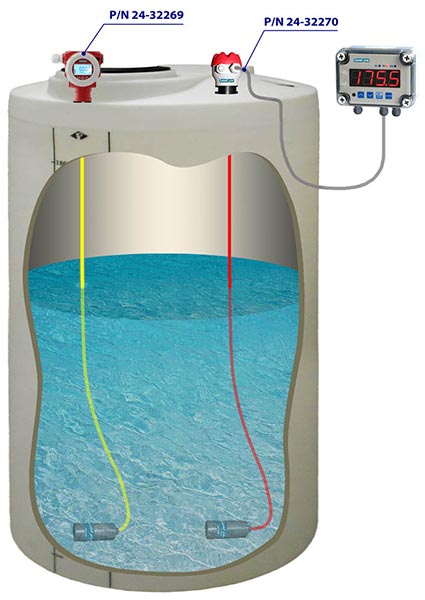 Level Indication and Control
Whether you need simple point level indication or multi-level control, we can provide just sensors or a complete system with a controller to fit your application perfectly. A variety of sensor technologies and a highly chemical resistant thermoplastic construction provides a viable solution for just about any chemical environment. Available in 110 VAC or 12 VDC. See table below for PN descriptions.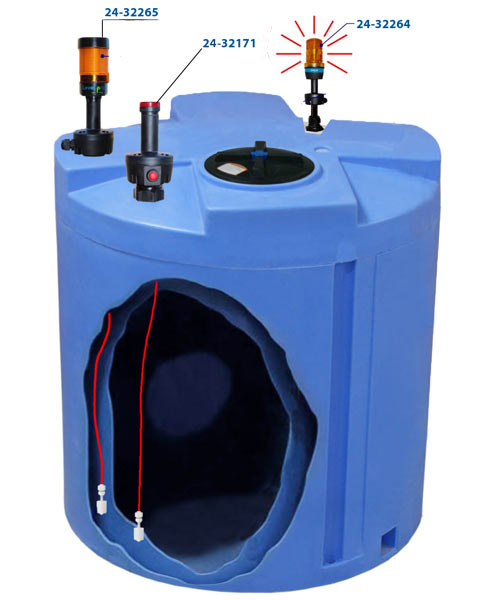 Leak Detection
Now you can add leak detection sensors to your double walled tanks, single walled tanks, in basins or in containment areas. We have a variety of models to choose from so you can pick the product that best suits your application. Choose a simple "signal out" sensor or a complete control system with alerts. We have 110 VAC systems, 12VDC systems and long-lasting battery-operated systems for remote leak detection monitoring where no power source is available near your tanks. Durable thermoplastic construction provides lots of choices for almost any chemical application. See table below for PN descriptions.
To create your setup, look at the various sizes we have below. You can then contact a Distributor or Rep in your area to complete the process of ordering.
| PN | Type | Name |
| --- | --- | --- |
| 24-32269 | Level Detection | ProChem® Continuous Tank Level Controller w/ Local LED Display - Pressure Sensing Technology, 1 Relay, 4-20 mA output, 24 VDC w/2" MPT Connection, PVC/Ceramic Te° on Wetted Parts. |
| 24-32270 | Level Detection | ProChem® Continuous Tank Level Controller w/ NEMA 4X Junction Box & Remote LED Display - Pressure Sensing Technology, 1 Relay, 4-20 mA output, 24 VDC w/2" MPT Connection, PVC/Ceramic Te° on Wetted Parts. |
| 24-33858 | Level Detection | 120VAC to 24VDC Power Supply. |
| 24-32171 | Leak Detection | Standard-Duty Battery-Powered Leak Detection - Lighted Visual Indication w/PPL Float and PVC-Coated Flexible Cable - 3/4" MPT Connection. |
| 24-32264 | Leak Detection | Industrial Duty Leak Detection Alarm - Xenon Visual Indication w/12-80 VDC/120 VAC Power Supply w/PPL Float and Rigid Poly Extension Tube - 1" MPT Connection. Electric Power Cord Not Included. |
| 24-32265 | Leak Detection | Industrial Duty Leak Detection Alarm - Combo LED Visual/Audible Alarm Indication w/12-80 VDC/120 VAC Power Supply w/PPL Float and Rigid Poly Extension Tube - 1" MPT Connection. Electric Power Cord Not Included. |
| 24-33820 | Leak Detection | Bouncy Style 1" NPT Level Leak Detection With Alarm (not shown on image) |