Specialty Tanks
Browse our Specialty Tanks below and see the various sizes in the table.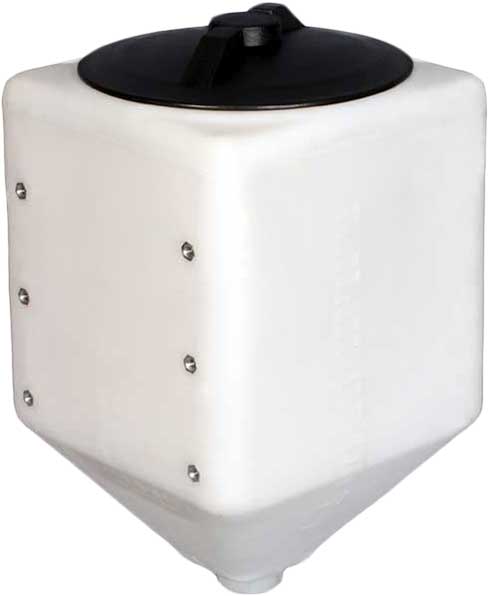 Total Drain Tanks
When needing a tank that provides complete drainage, the total drain plastic tank is the perfect choice. The fitting is installed in the bottom of the tank. Note: This is a non-stock item, the minimum order is 4 units and they are FOB Sheldon, IA.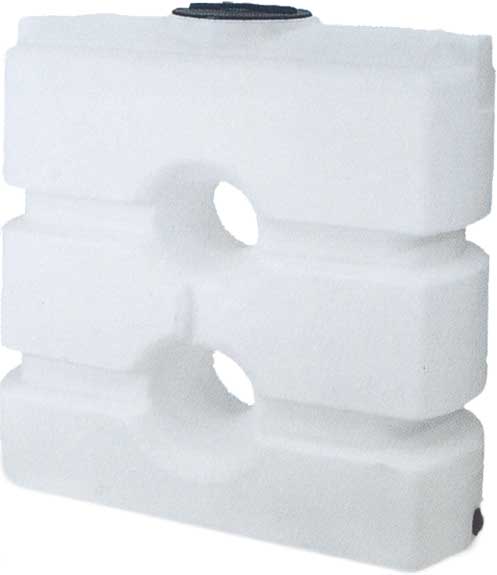 Freestanding Water Tanks
The Specialty Freestanding Water Tanks have been designed with residential and commercial applications in mind. The dimensions of the plastic tanks allow them to fit through a conventional doorway. The design of these tanks allow them to be freestanding/self-supporting and eliminates the need for a steel frame.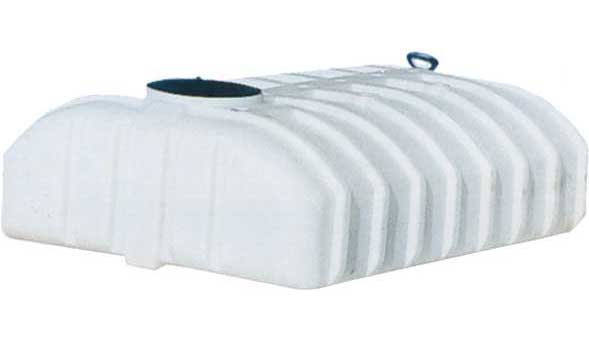 Low Profile Water Tanks
This low profile plastic tank may be used for storage or transport. They are an excellent choice when height limitations are a factor and are the perfect height for putting under your cottage or cabin.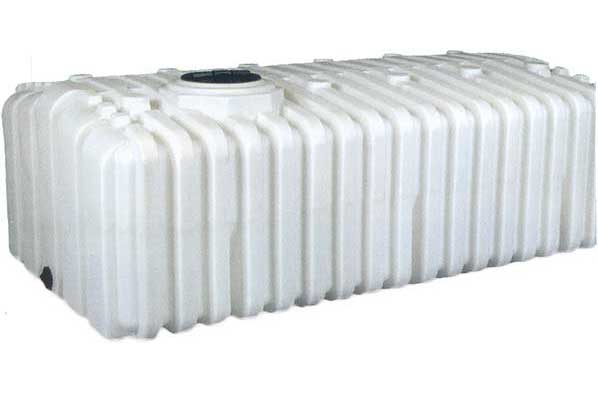 Horizontal Box Water Tank
The low profile design of this horizontal plastic tank makes it ideal for use on trailers or in the back of a truck. The slosh reduction ribs provide excellent structural support. It can also be used as a stationary water storage tank.
Click here if you need the Auto Detail/Graffiti Removal Tanks.
Note: Standard fittings are available on some models. Not included unless specified when ordering. Non-standard fittings available upon request.
To create your setup, look at the various sizes we have below. You can then contact a Distributor or Rep in your area to complete the process of ordering. If PDF drawing is available – click to download.
| PN | Tank Size | Tank Type | Width | Length | Height | Weight | Model # | PDF |
| --- | --- | --- | --- | --- | --- | --- | --- | --- |
| 01-14856 | 5 Gallon / 19 Litre | Total Drain | 11 in / 27.94 cm | 11 in / 27.94 cm | 18 in / 45.72 cm | 6 Lbs / 3 Kg | 42321 | PDF |
| 01-167 | 10 Gallon / 38 Litre | Total Drain | 13 in / 33.02 cm | 13 in / 33.02 cm | 21 in / 53.34 cm | 10 Lbs / 5 Kg | 42351 | PDF |
| 01-14857 | 12 Gallon / 45 Litre | Total Drain | 14 in / 35.56 cm | 18 in / 45.72 cm | 15 in / 38.10 cm | 11 Lbs / 5 Kg | 60521 | PDF |
| 01-24945 | 250 Gallon / 946 Litre | Freestanding | 29 in / 73.66 cm | 62 in / 157.48 cm | 40 in / 101.60 cm | 103 Lbs / 47 Kg | 42337 | PDF |
| 01-29558 | 400 Gallon / 1514 Litre | Freestanding | 29 in / 73.66 cm | 66 in / 167.64 cm | 70 in / 177.80 cm | 183 Lbs / 83 Kg | 43856 | PDF |
| 01-24951 | 400 Gallon / 1514 Litre | Freestanding | 30 in / 76.2 cm | 63 in / 160.02 cm | 68 in / 172.72 cm | 183 Lbs / 83 Kg | 41247 | PDF |
| 01-29559 | 500 Gallon / 1893 Litre | Freestanding | 31 in / 78.74 cm | 74 in / 187.96 cm | 70 in / 177.80 cm | 0 Lbs / 0 Kg | 43616 | PDF |
| 01-30781 | 1000 Gallon / 3785 Litre | Freestanding | 40 in / 101.6 cm | 92 in / 233.68 cm | 89 in / 226.06 cm | 0 Lbs / 0 Kg | 44045 | |
| 01-24947 | 1250 Gallon / 4732 Litre | Low Profile | 81 in / 205.74 cm | 130 in / 330.20 cm | 38 in / 96.52 cm | 354 Lbs / 161 Kg | 40756 | PDF |
| 01-29560 | 1275 Gallon / 4826 Litre | Low Profile | 84 in / 213.36 cm | 126 in / 320.04 cm | 36 in / 91.44 cm | 0 Lbs / 0 Kg | 43011 | PDF |
| 01-24952 | 1500 Gallon / 5678 Litre | Low Profile | 81 in / 205.74 cm | 130 in / 330.20 cm | 44 in / 111.76 cm | 464 Lbs / 210 Kg | 41392 | PDF |
| 01-29561 | 1600 Gallon / 6057 Litre | Low Profile | 84 in / 213.36 cm | 126 in / 320.04 cm | 42 in / 106.68 cm | 0 Lbs / 0 Kg | 43013 | PDF |
| 01-24948 | 2400 Gallon / 9085 Litre | Horizontal Box | 90 in / 228.6 cm | 150 in / 381.00 cm | 53 in / 134.62 cm | 679 Lbs / 308 Kg | 40912 | PDF |
Save
Save
Save
Save
Save
Save