PCO and Loaf Tanks
Consider using these PCO and Loaf Tanks, look below for description of each and in the table for sizes.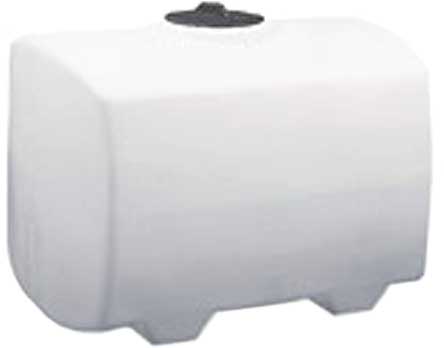 PCO Tanks
A multi-purpose tank, the PCO is well suited for nursery, agricultural and lawn care applications. These tanks feature self-supporting legs and do not require any saddles or steel supports. Flat spots are molded into both ends to provide mounting areas for agitation equipment.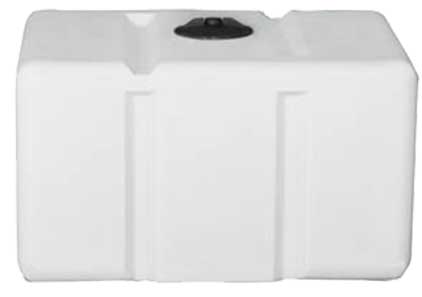 Loaf Tanks
The loaf tanks are designed for a variety of applications. Its rectangular shape allows for placement within pickup beds or it may be mounted on various equipment trailers for use as a mobile water supply. This line of tanks may also be used in a variety of stationary storage applications.
Click here if you need the Auto Detail/Graffiti Removal Tanks.

To create your setup, look at the various sizes we have below. You can then contact a Distributor or Rep in your area to complete the process of ordering. If image is available, hover over for larger view. If PDF drawing is available – click to download.
| PN | Tank Size | Tank Type | Length | Width | Height | Weight | Color | Model # | PDF |
| --- | --- | --- | --- | --- | --- | --- | --- | --- | --- |
| 01-1290 | 30 Gallon / 114 Litre | PCO | 25 in / 63.50 cm | 19 in / 48.26 cm | 23 in / 58.42 cm | 17 Lbs / 8 Kg | White | 41254 | PDF |
| 01-29583 | 50 Gallon / 189 Litre | Loaf | 41 in / 104.14 cm | 27 in / 68.58 cm | 17 in / 43.18 cm | #Error | White | 43610 | PDF |
| 01-1291 | 50 Gallon / 189 Litre | PCO | 38 in / 96.52 cm | 19 in / 48.26 cm | 22 in / 55.88 cm | 26 Lbs / 12 Kg | White | 40664 | PDF |
| 01-14858 | 50 Gallon / 189 Litre | PCO Ribbed | 38 in / 96.52 cm | 19 in / 48.26 cm | 23 in / 58.42 cm | 26 Lbs / 12 Kg | White | 42834 | |
| 01-29584 | 100 Gallon / 379 Litre | Loaf | 41 in / 104.14 cm | 27 in / 68.58 cm | 30 in / 76.20 cm | #Error | White | 43611 | PDF |
| 01-14859 | 100 Gallon / 379 Litre | PCO Ribbed | 38 in / 96.52 cm | 30 in / 76.2 cm | 30 in / 76.20 cm | 41 Lbs / 19 Kg | White | 42835 | |
| 01-1286 | 100 Gallon / 379 Litre | PCO | 38 in / 96.52 cm | 30 in / 76.2 cm | 28 in / 71.12 cm | 41 Lbs / 19 Kg | White | 40668 | PDF |
| 01-14860 | 150 Gallon / 568 Litre | PCO Ribbed | 48 in / 121.92 cm | 37 in / 93.98 cm | 29 in / 73.66 cm | 63 Lbs / 29 Kg | White | 42836 | |
| 01-1287 | 150 Gallon / 568 Litre | PCO | 48 in / 121.92 cm | 36 in / 91.44 cm | 28 in / 71.12 cm | 61 Lbs / 28 Kg | White | 40669 | PDF |
| 01-29585 | 200 Gallon / 757 Litre | Loaf | 48 in / 121.92 cm | 36 in / 91.44 cm | 29 in / 73.66 cm | #Error | White | 43612 | PDF |
| 01-14861 | 200 Gallon / 757 Litre | PCO Ribbed | 48 in / 121.92 cm | 37 in / 93.98 cm | 37 in / 93.98 cm | 83 Lbs / 38 Kg | White | 42837 | |
| 01-1288 | 200 Gallon / 757 Litre | PCO | 48 in / 121.92 cm | 36 in / 91.44 cm | 37 in / 93.98 cm | 76 Lbs / 34 Kg | White | 41413 | PDF |
| 01-29586 | 300 Gallon / 1136 Litre | Loaf | 63 in / 160.02 cm | 42 in / 106.68 cm | 30 in / 76.20 cm | #Error | White | 43613 | PDF |
| 01-1289 | 300 Gallon / 1136 Litre | PCO | 69 in / 175.26 cm | 36 in / 91.44 cm | 37 in / 93.98 cm | 143 Lbs / 65 Kg | White | 41381 | PDF |
Save