Horizontal Saddle Tanks
Our Horizontal Saddle Tanks consists of Applicator Plastic Tanks and Elliptical Plastic Tanks.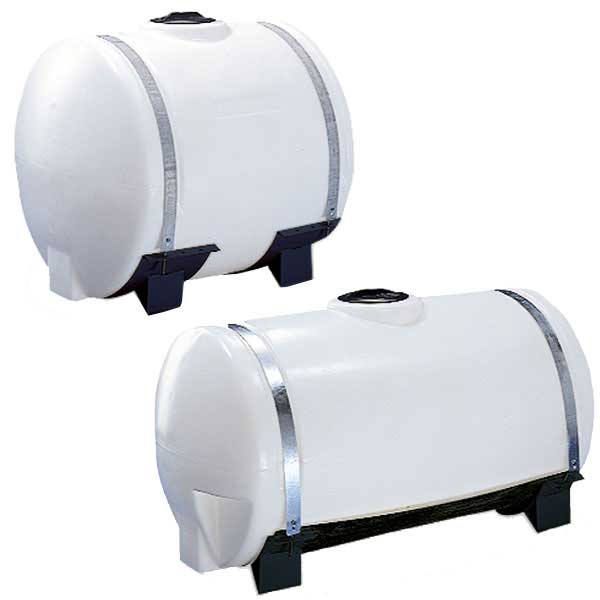 Applicator Tanks
This cylindrical applicator tank features a lid which threads directly into the fill-opening of the tank to prevent the sloshing or leaking of tank contents during transport or application.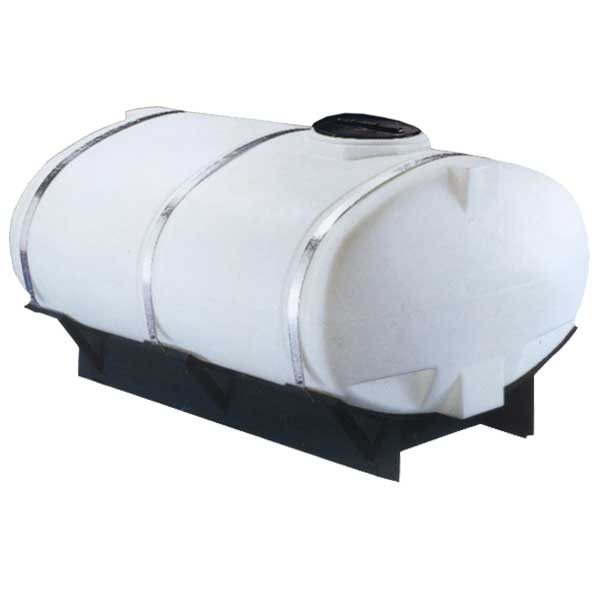 Elliptical Tanks
Designed for larger volume applicator needs; it features a low profile design and a low center of gravity for excellent visibility in the field and increased stability when towed. A deep sump permits complete drainage and the tank features an 8″ or 16″ fill-opening. The plastic tank is standard weight at 1.5 specific gravity.
For Elliptical Tank and Skids check them out in their sections.
Go here if you require Elliptical Leg Tanks
Note: Standard fittings are available on some models. Not included unless specified when ordering. Non-standard fittings available upon request.
To create your setup, look at the various sizes we have below. You can then contact a Distributor or Rep in your area to complete the process of ordering. If PDF drawing is available – click to download.
Applicator Tanks
| PN | Applicator Tanks | Length | Diameter | Height | Weight | Color | Model # | PDF |
| --- | --- | --- | --- | --- | --- | --- | --- | --- |
| 01-1737 | 20 Gallon / 76 Litre | 31 in / 78.74 cm | 15 in / 38.10 cm | 18 in / 45.72 cm | 14 Lbs / 6 Kg | White | 61737 | PDF Document |
| 01-1740 | 30 Gallon / 114 Litre | 21 in / 53.34 cm | 23 in / 58.42 cm | 26 in / 66.04 cm | 14 Lbs / 6 Kg | White | 41799 | PDF Document |
| 01-1746 | 55 Gallon / 208 Litre | 34 in / 86.36 cm | 23 in / 58.42 cm | 27 in / 68.58 cm | 21 Lbs / 10 Kg | White | 45193 | PDF Document |
| 01-1748 | 85 Gallon / 322 Litre | 52 in / 132.08 cm | 23 in / 58.42 cm | 26 in / 66.04 cm | 29 Lbs / 13 Kg | White | 45105 | PDF Document |
| 01-1724 | 100 Gallon / 379 Litre | 57 in / 144.78 cm | 24 in / 60.96 cm | 28 in / 71.12 cm | 36 Lbs / 16 Kg | White | 60204 | PDF Document |
| 01-1725 | 110 Gallon / 416 Litre | 41 in / 104.14 cm | 30 in / 76.20 cm | 34 in / 86.36 cm | 41 Lbs / 19 Kg | White | 45053 | PDF Document |
| 01-1729 | 150 Gallon / 568 Litre | 58 in / 147.32 cm | 30 in / 76.20 cm | 33 in / 83.82 cm | 50 Lbs / 23 Kg | White | 40648 | PDF Document |
| 01-1727 | 150 Gallon / 568 Litre | 46 in / 116.84 cm | 32 in / 81.28 cm | 35 in / 88.90 cm | 47 Lbs / 21 Kg | White | 45117 | PDF Document |
| 01-1728 | 150 Gallon / 568 Litre | 50 in / 127.00 cm | 28 in / 71.12 cm | 41 in / 104.14 cm | 57 Lbs / 26 Kg | White | 40777 | PDF Document |
| 01-1734 | 200 Gallon / 757 Litre | 61 in / 154.94 cm | 24 in / 60.96 cm | 48 in / 121.92 cm | 82 Lbs / 37 Kg | White | 41305 | PDF Document |
| 01-1732 | 200 Gallon / 757 Litre | 62 in / 157.48 cm | 32 in / 81.28 cm | 35 in / 88.90 cm | 63 Lbs / 29 Kg | White | 45059 | PDF Document |
| 01-1731 | 200 Gallon / 757 Litre | 47 in / 119.38 cm | 38 in / 96.52 cm | 42 in / 106.68 cm | 60 Lbs / 27 Kg | White | 45061 | PDF Document |
| 01-1738 | 300 Gallon / 1136 Litre | 68 in / 172.72 cm | 38 in / 96.52 cm | 41 in / 104.14 cm | 87 Lbs / 39 Kg | White | 40135 | PDF Document |
| 01-1742 | 400 Gallon / 1514 Litre | 74 in / 187.96 cm | 42 in / 106.68 cm | 45 in / 114.30 cm | 102 Lbs / 46 Kg | White | 40137 | PDF Document |
| 01-1744 | 500 Gallon / 1893 Litre | 75 in / 190.50 cm | 48 in / 121.92 cm | 51 in / 129.54 cm | 122 Lbs / 55 Kg | White | 40274 | PDF Document |
Save
Save
Save
Save
Save
Save
Save